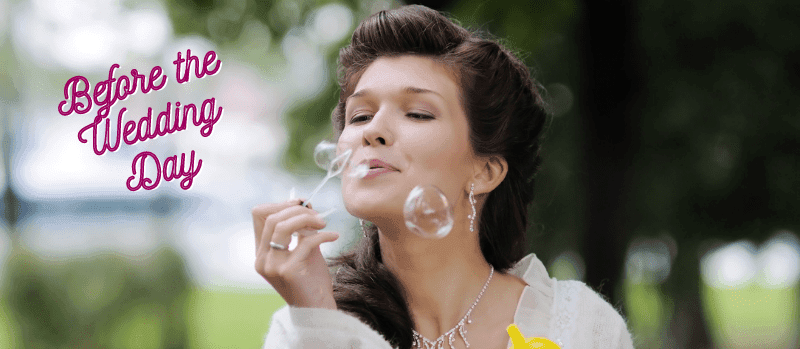 So you've got a list of thousands of things to do before the big day AND you want to look rested and glamourous and/or handsome. So first...
Relax and realize that total perfection is impossible.

BUT – having the perfect day doesn't mean there won't be a pimple or an angry toddler throwing a tantrum. How you react is everything and your wedding day is still yours and we will be there to help you laugh through the stress.
Please drink lots of water and eat well.

We say this all the time – and we know you are busy. Skin is an organ (we know – ewwww) and it needs nutrition from the inside out. So just do it!
Get a facial and a wax – at least a week before the wedding.

if you have never had a facial doing it right before the special day is a very bad idea. You could break out or have an allergic reaction. If you are going to do it – have one WAY before the wedding to try it out. Waxing your eyebrows is great . However, if you do it right before the day of – it takes away a layer of skin right above the brow and that causes a problem with how foundation lays in that area (especially airbrushed foundation).
Schedule a trial run.

We know this is an extra expense and if you have absolutely no worries about your look on your big day then skip it. If you want to get a trial run then please do.

A trial run isn't just a time to see that your makeup will be perfect – but to play around with different styles and looks.

This is where you can say "I like it" or "I don't like it" so you get the perfect look on the day of your wedding. Basically – its play time with makeup!
Be realistic with the look you want.

When looking at all the different looks in magazines or Pinterest please realize that most of this is edited and a huge amount of makeup for those flawless, matt looks – with perfect lips and not a hint of real skin showing through. AND – look at your face shape and eye shape compared to those looks and realize we want to create YOUR look that will look best on YOU – and in real life. 🙂
Pick your friends.

For your bridal party and groomsmen! And yes – family can be a friend. Make sure those you choose to be there for you on your day are there for YOU. More on that in the "Day Of" part of the guide.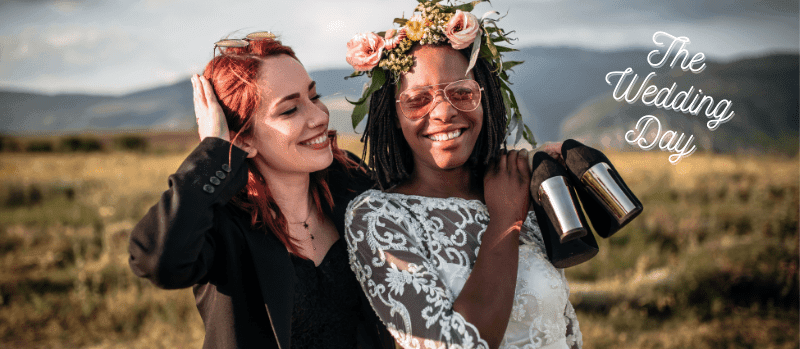 This part of the list has some real talk. Because on the day of the wedding is when you should have the most fun and enjoyment. Well - just read the list and you'll know what we mean.
Let's talk about Divas.

In our opinion the only "diva" of the day should be the one that is getting married (this is not a bridezilla – that is an entirely different blog post). The focus should be on the YOU. That is why we said to pick your party carefully. Our focus for the day is the Bride and/or Groom. We of course want everyone to be happy with their look and we always strive to do just that. However, the day is about the soon to be married – not anyone else trying to get attention.
Give your phone to someone else.

Plan the day ahead so that you aren't fielding questions that others can figure out. People will try to contact you for all kinds of things that day with great intentions – but what happens is that you get completely distracted and stressed. If you are constantly answering questions and messages, we can't get you ready on time and as beautifully as possible.
Don't stay quiet if there is something that you just don't like about your hair and/or makeup.

Be honest with us because our job is to make your day as beautiful as possible. We can handle it and if we can't then we shouldn't be doing this job. So please, please, please tell us!
Don't worry about bringing your own makeup or supplies.

We bring it all – so all you have to do is sit back and relax.
Don't stress about the little things.

Like a pimple. Most every bride we have has some type of skin "issue" the day of – but we can take care of it – Promise!
HAVE FUN!!!

We love to joke around while getting everyone "beautified". If you want a super serious beauty team that never crack a smile or won't hold a conversation…we aren't it! Be yourselves and just enjoy the day!